Company info
Ec&e lt is an independent engineering-, manufacturing- and sales company focussing on:
Filtration & separation techniques.
For solids-liquid and liquid-liquid separation.
for larger flows.
Since 1989 Mr. B van der Wijk has been operating in the international filtration market as engineer and supplier for a wide variety of filtration & separation techniques. In 1996 he started with production of filters as independent manufacturing and Production Company Ec&e. Since that year he created a production network around the engineering office Ruurlo. Based on extensive experience in the filtration industry E c&e engineered and designed our products and systems, produced most of the drawings and provided technical back up. The cooperation proved to be a success.
Ec&e has a production facility in Holland.The production facility offers: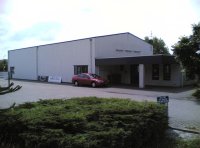 45 m² office space.
445 m² production, logistical and assembly area.li>
E c&e lt will be marketing a separator line under the trading name AUXILL® U.K. filters.
As independent company Ec&e has access to the worldwide scope of available filter techniques and we select these freely to create customer solutions.
Ec&e has an international sales network, with cooperative offices in Holland, Belgium, France, United Kingdom and China and sales associates in major countries around the world.
Together with our sales & supply partners we create customer solutions.
To create solutions we use our own products and if needed we have access to the worldwide scope of available separation techniques. We often cooperate with supplying partners. Ec&e enjoys OEM-status with many international renowned companies.
Ec&e works together with sales offices, independent distributors and OEM's throughout the world.
Our partners benefit form the gained international experiences and know how in filtration & separation techniques and can rely on our extensive back up in a wide scope of applications.